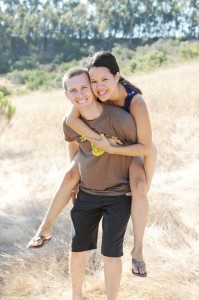 Who is Bushard Photography?
We are a husband (Travis) & wife (Ann) photography team located in San Diego, California. We LOVE shooting weddings, engagement sessions, & family sessions! We have been shooting professionally together for over 9 years now!
Why wedding photography?
We both love telling the story of your romance. We truly believe that the best pictures capture you as you are. We have been together for 17 years (married for 9) and love getting to know other couples and really capturing the romance in each individual couples relationship. Weddings are such an intimate day in the life of the couple that capturing each moment with a picture for them to re-live later is priceless. We love what we do and we like to have fun with our couples when we do it! We have a laid back style of shooting and won't ask any moment to be recaptured.
Why Family Photography?
My favorite part of the year is ALWAYS the lead-up to the holiday season! I LOVE when our former wedding couples contact us for family pictures year after year! Capturing these memories are a true passion and I am a strong advocate in having a professional take (at least) yearly pictures. Having two young children of our own, we understand how children work. We always allow for some fun between pictures and always ask the kids for help. The more we do family sessions, the more we love them.
What gear to we use?
We use all professional grade Nikon gear. We have Nikon bodies, lenses and flashes. We bring back-up to each and every wedding!
How long will it take to receive our photos?
Most family/engagement/maternity sessions take about a week. Weddings we try to have completely edited within 3-4 weeks.
More about Ann….
Ann found her love for photography back in her sophomore year in high school She enrolled in a basic film photography class and fell in love. Ann was born and raised in Hawaii and loves to eat and travel to new places!! Spending time with family and friends and just laughing is a key part of life!
More about Travis….
Travis' interest in photography was sparked by Ann. Travis was born and raised in San Diego. He is an avid fisherman and mountain biker!
CONTACT US TODAY AT [email protected] or 619-405-6899!